You are here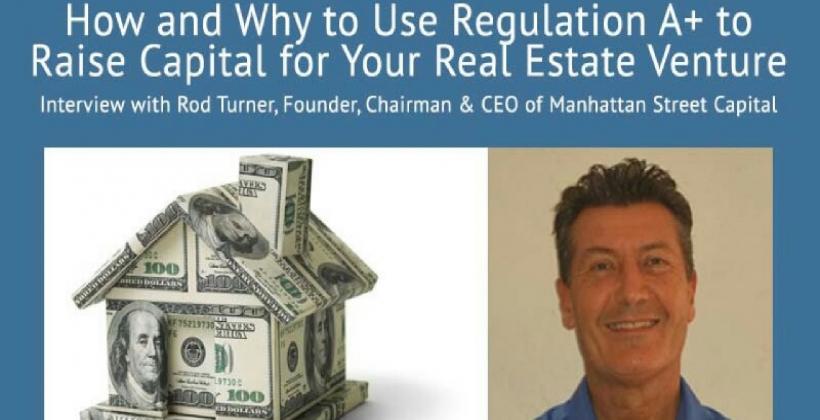 Title
Webinar How And Why To Use Reg A+ To Raise Capital For Your Real Estate Projects
How to make the most of Reg A+ to raise capital for your real estate venture, and why to do so.
On Thursday May 4th at 10:30am PDT, we will be holding a special webinar interview: How And Why To Use Reg A+ To Raise Capital For Your Real Estate Projects. Book your space here.
Learn how to make the most of Reg A+. We will explain which steps to take and the mistakes to avoid in planning and implementing your Reg A+ offering.
Some of the topics we will cover are;
Why Real Estate is succeeding so well with Reg A+ ($160 million raised to date)

Is it possible to raise more than $50 mill per year for one entity?

What are the up front costs and the total costs of a Reg A+ offering

When can we do our first closing?

Can we continue our offering as long as we want?

What are the differences between a Tier 1 and Tier 2 Offering

Keys to success with your Real Estate Reg A+
Rod Turner is Founder of 
Manhattan Street Capital
, the #1 Growth Capital marketplace for the best mid sized US and Canadian companies. Rod has been the Senior Executive for two IPOs to NASDAQ (Ashton-Tate, Symantec). Rod was an Angel Investor in Ask Jeeves, INFN, AMRS, eASIC, Bloom Energy. He is a high energy strategic thinker with an engineering background and skills in all areas of business. He is also an experienced M&A expert. Rod is a contributing writer for Forbes. You can find Rod on Twitter 
@IamRodTurner
and on LinkedIn here, email

[email protected]
Register for the webinar
here
. If you can't attend the webinar live and you would like a link to the recorded version, register ahead of time and we will send you the recording.
The Webinar will be hosted by QuestFusion's Patrick Henry. Patrick is an accomplished entrepreneur and successful CEO, he will be interviewing Rod in the Webinar.  We hope you can join us!
More Complete List of Topics We Will Cover Listed Below:
Is a REIT method possible?
Are Debt equity available?
Am I required to take my company public to use Reg A+?
How to organize a Real Estate offering.
What is "Testing the Waters"?
Typical Yield range
Is Reg A+ available for companies whose operations are outside the US or Canada?
What are the ongoing reporting requirements for a RegA+ issuer?
Can an investor contribute a building as their investment?
Can there be an outside manager?
How to excel with your Reg A+
Rod Turner
Rod Turner is the founder and CEO of Manhattan Street Capital, the #1 Growth Capital marketplace for mature startups and mid sized companies to raise capital using Regulation A+. Turner has played a key role in building successful companies including Symantec/Norton (SYMC), Ashton Tate, MicroPort, Knowledge Adventure and more. He is an experienced investor who has built a Venture Capital business (Irvine Ventures) and has made angel and mezzanine investments in companies such as Bloom, Amyris (AMRS), Ask Jeeves and eASIC.
RodTurner@ManhattanStreetCapital.com
www.ManhattanStreetCapital.com
Manhattan Street Capital, 5694 Mission Center Rd, Suite 602-468, San Diego, CA 92108.  858 366 2585