Phase 1; Preparation
1. Select a marketing agency that will manage your 360° marketing campaign. We will introduce you to experienced marketing agencies. Connect with NYSE/NASDAQ senior management to get their requirements for the offering to list. Manhattan Street Capital (MSC) makes this introduction.
2.a MSC introduces the company to Auditor with experience in Reg A+. The company select, contract and commence. This item is a critical path because the initial SEC filing cannot be started until the two-year audit is complete. Audit duration will depend on the structure and how new the company is. ~30 to 120 days likely.
2.b Introduction by MSC to a practiced legal service provider for the Form 1-A SEC filing. The company executes the contract and gets them started. SEC filing can take 60+days when conducted well with rapid responses to SEC questions. Work starts while the audit is ongoing. (The SEC qualification depends on several factors, it can take longer than the estimated time.) 
3.a Form 1-A Filing with SEC, in parallel with the Marketing agency to build offering pitch on Manhattan Street Capital, video, PR, graphics, social media accounts.  
3.b The company select and contracts with the marketing agency. Preparation will take ~2 months, work done in parallel with SEC filing. 
3.c Select and contract with Market Maker, Transfer Agent, Escrow Agent/bank.  30 days in parallel.
Phase 2, Execution, post Audit
4. SEC Qualify filing and the company go live to investors on MSC. Start the acceptance of capital. ~Audit +2 months
 5. First Closing when $ raise is sufficient, judged by the company. Usually, 10-20 days after the offering went live. The initial escrow fund deposits are transferred to the company's accounts. The closed offering proceeds can be used to pay marketing expenses.
6. Offering continues until the company raises at least half of the target amount. This usually takes at least six months. This is necessary because Underwriters tend only to show interest in Reg A+ IPOs if the company managed to raise a significant percentage of the target amount on their own. After all, they don't want to risk their relationship with their clients. Once the offering has known enough traction, the company can select an underwriter and negotiate a much more favorable deal.
7. Engage and contract with the Underwriter.
8. The Underwriter quickly raises the rest of the amount from their clients. 
9. List on NYSE or NASDAQ. When the company has raised more than the minimum for listing with more than enough investors (usually more than 400), the attorney files Form 8-A with the SEC, at which point the company lists and goes live on the NYSE. ~Audit+ 9-10 months
Notes:
It is not necessary to use a broker-dealer. There are many aspects of the schedule that are adjustable according to confidence.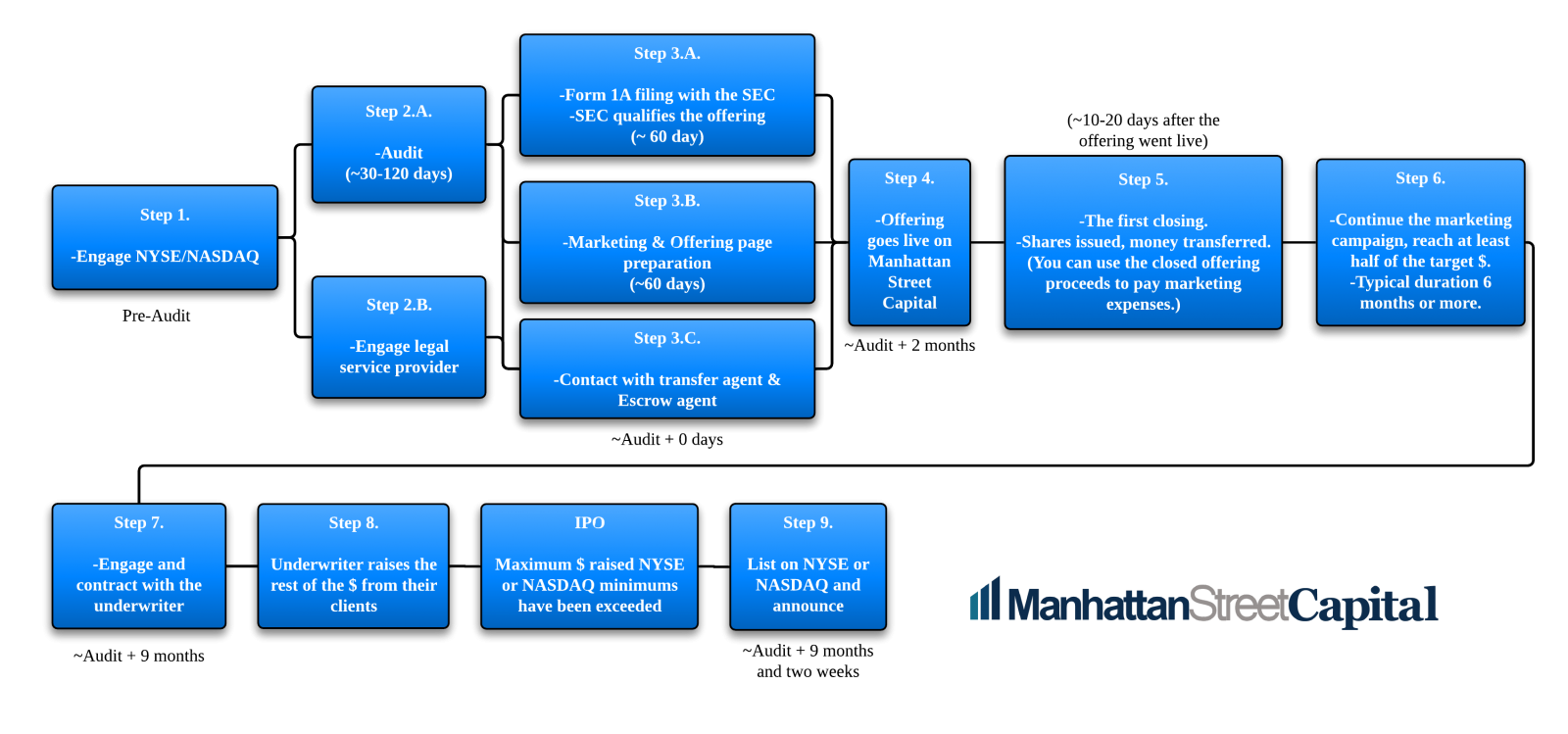 Notes:
It is unnecessary to use a broker-dealer, but all the Reg A+ IPOs have done so to date. There are many aspects of the schedule that are adjustable according to confidence.
Related Content:
Cost of taking your company public using Regulation A+
IPO Consulting Service from Manhattan Street Capital
Timeline Schedule for a  Regulation A+ Offering 
Rod Turner
Rod Turner is the founder and CEO of Manhattan Street Capital, the #1 Growth Capital service for mature startups and mid-sized companies to raise capital using Regulation A+. Turner has played a vital role in building successful companies, including Symantec/Norton (SYMC), Ashton Tate, MicroPort, Knowledge Adventure, and more. He is an experienced investor who has built a Venture Capital business (Irvine Ventures) and has made angel and mezzanine investments in companies such as Bloom, Amyris (AMRS), Ask Jeeves, and eASIC.
RodTurner@ManhattanStreetCapital.com
www.ManhattanStreetCapital.com
Manhattan Street Capital, 5694 Mission Center Rd, Suite 602-468, San Diego, CA 92108.