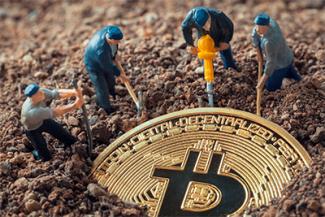 BitPlus - Mining Bitcoin and other cryptocurrencies with ultra-low cost and high efficiency, live to investors. The people who made the most money in the gold rush were those who sold the shovels.  Mining Bitcoin and other cryptocurrencies are the new gold rush and BitPlus is the new state-of-the-art shovel. The cryptocurrency mining market is projected to reach $38.38 Billion by 2025, according to Coherent Market Insights.
BitPlus' Mobile Mining Rigs are powered by their proprietary low-cost energy generation system - designed to bring computational power and energy conversion to stranded natural gas locations anywhere. This enables BitPlus Mining Rigs to run far more efficiently than the competition. The average price per kilowatt-hour in the US is $0.21, while BitPlus' cost is only $0.03 per kilowatt hour.
At the end of April BitPlus purchased their first 100 mining units, by the second week of May these units were up and mining. $300k has already been raised. Reg D offering has been live on MSC since May 25th. See the Manhattan Street Capital fees for this offering   
IGF Cancer treatment medicine in Clinical Trials at the Mayo Clinic Reg D -- Live to investors. CEO Hugh McTavish says; "We have results now from our first two patients in the MDS clinical trial at Mayo, and the results are pretty great. The drug worked on both of the first two people it was used on, and this was at the lowest dose we will test. These individuals, when they started treatment, had a life expectancy of 3-6 months and their disease had progressed on the previous treatment. But after 2 months of treatment with our drug, they are both improved in nearly every blood and bone marrow parameter. If we get similar results with the next two patients, we intend to request "breakthrough" designation from the FDA."
"Bone marrow blast percentage is the key indicator of the disease, and in the first individual, it was reduced from 22% down to 5%, (bringing it down to normal range). It stayed constant for 2 months in the second patient at 17%, which is an indicator of stable disease and efficacy for the drug as well. White blood cells and neutrophils are the two key parameters of immune system function, and it is usually infection that kills these patients. Both those parameters were dramatically improved in both individuals. Except for platelets which went down in patient 2, all other parameters were also improved or stable in both subjects." See the Manhattan Street Capital fees for this offering   
InSitu Biologics' AnestaGel™, non-opioid pain relief drug based on technology created by scientists at the Cleveland Clinic -- 22 US patents issued, $20 Bill market. InSitu is now accepting reservations via TestTheWaters™ and intends to launch a Regulation A+ offering to a limited number of investors. After having completed their Reg D capital raise after Thanksgiving at remarkably low cost, with some time yet before intended SEC Qualification of InSitu Biologic's RegA+ Offering, numerous previous investors have made sizable reservations, and of those that are not previous investors, all except four have a direct link to the medical community, either through industry or in a healthcare related field. The company has accepted reservations for over $1 million of the $10 million intended offering, with very little marketing to date. See the Manhattan Street Capital fees for this offering 
View our Offering Circular HERE
Radiant Pain Relief Centres RegA+Audition™. Successful Pain Treatment without Needles or Drugs; Safe, Consistently Effective Results. Radiant is in TestTheWaters™ and accepting reservations for their intended Reg A+ offering. See the Manhattan Street Capital fees for this offering   
Check these out -- Manhattan Street Capital's latest offerings!
All the Best
Rod Turner