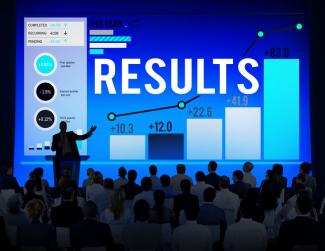 Update as of April 2021
We estimate that during 2020 the total amount of capital raised via Reg A+ offerings was $1.48 Billion.
2021 has started off rapidly, we forecast that total capital raised via Reg A+ offerings this year will exceed $2 Billion.
Reg A+ Metrics For 2019
The SEC has published updated capital-raising results for Regulation A+ through December 31st, 2019. We report and analyze the key numbers:
In 2019, Reg A+ had a banner year, growing at a rate of 41.6% over 2018; from $736 million capital raised to $1,042 million in 2019, with an average capital raise amount of $20.4 million per company. Reg A+ brief description.
Tier 2 offerings grew at a faster clip, 48% year-on-year (stepping up from $675 million to $998 million). Thirty-nine companies raised an average of $25.6 million via Tier 2 in 2019, a significant 67% increase over the $15.3 million average in 2018. This expansion took place even as the total number of Tier 2 Reg A+ offerings reduced by 11%. Most of this increase in deal size is from real estate offerings having success with larger raises. What are the differences between Tier 2 and Tier 1 in Reg A?
Tier 1 capital raised declined from 2018 to 2019 by 28% as companies have come to realize that Tier 1 is not as easy as it first seems and switched to use Tier 2 instead. In 2019 only 4% of total Reg A+ capital raised came via Tier 1. I expect this small share to continue.
Also, we see that the average capital raise for all Reg A+ offerings rose from $13.6 million in 2018 to $20.4 million in 2019 - an increase of 50%.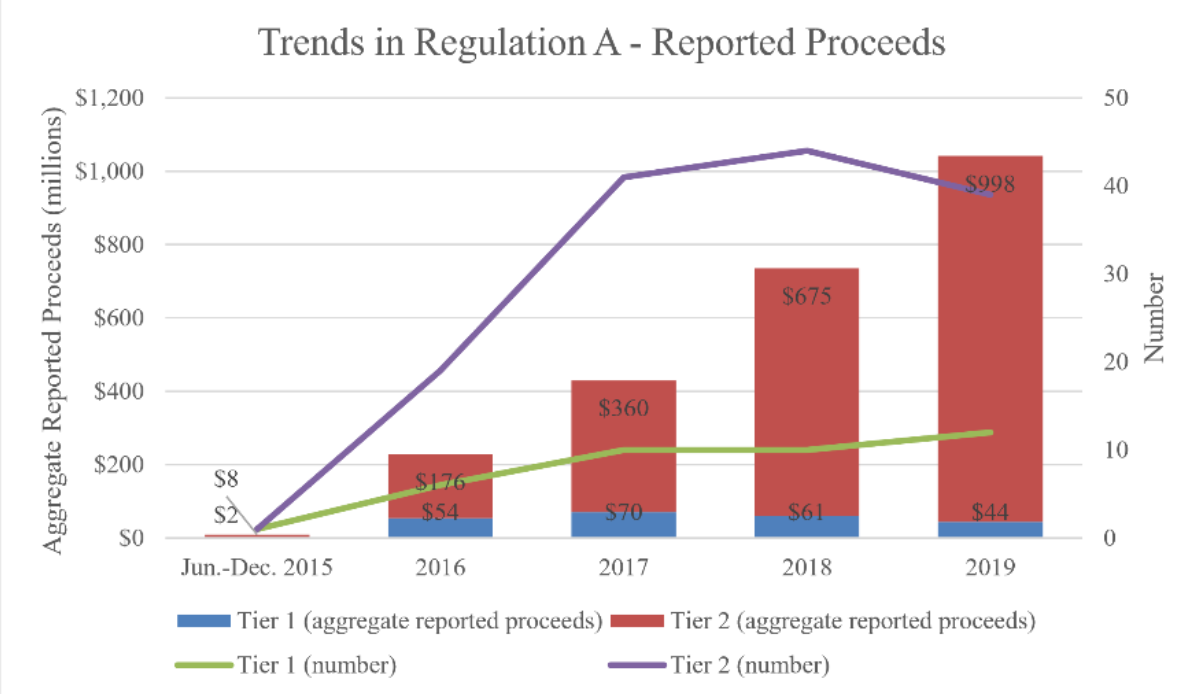 Real estate offerings represent 69% of the capital raised via Reg A+ – by far, the most successful segment using Reg A+ to date, as we have reported before. These types of companies are best suited to succeed using Reg A+.
For the cumulative total, including all offerings from the summer of 2015 through December 2019, 183 issuers have raised approximately $2.4 billion, averaging $13.4 million each. Of that, Tier 2 offerings raised $2.2 billion, and Tier 1 offerings raised $230 million, split 94% Tier 2, and 6% Tier 1. See how to succeed using Reg A+ to raise capital for your business.
Post offering liquidity
Eleven companies used Reg A+ to conduct an IPO and are listed on either the NASDAQ or the NYSE. See our list. One hundred fifty post-Reg A+ offering companies are listed on one of the OTC markets (including the OTCQB, OTCQX, Pink listings, and the OTC quotation service) - see the chart below. The balance – 62% - are not listed. Some real estate offerings such as Fundrise offer very limited direct from issuer to investor liquidity – this activity is restricted by the SEC's Regulation M.
Secondary Trading Markets for Regulation A+ Issuers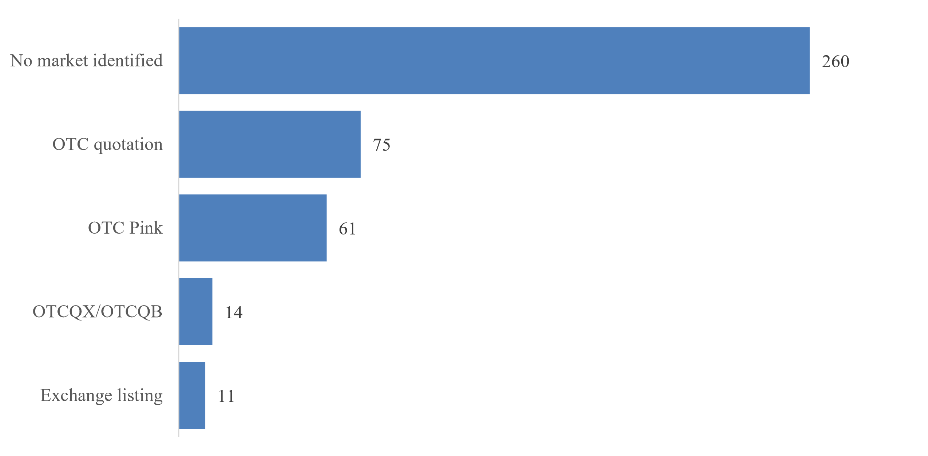 The SEC has proposed an increase in the maximum capital raise for Reg A+
On a related note, the SEC increased the maximum allowed raise amount using Reg A+ to $75 million per offering per year as of March 2021. This will further expand the market and uses for Reg A+. I expect more secondary offerings and more extensive real estate offerings will result, with further subtle shifts occurring over time.
Notes:
1) The SEC results include offerings that were still raising capital at the end of 2019.
2) The SEC results rely on the reports of the companies raising money, which is subject to reporting errors.
3) Note my conflict of interest, because I am the founder and CEO of Manhattan Street Capital, which is a funding platform that helps companies raise capital using Reg A+, I have a conflict of interest. Bear that in mind as you read this article. My company benefits from Reg A+ doing well.
Email me if I can be of help or advise you about your Reg A+ offering, at [email protected]