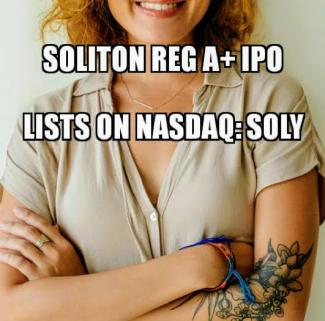 Soliton, Inc. have today completed their Reg A+ IPO and its stock is now trading on the NASDAQ with the ticker SOLY. Soliton sold 2,172,591 shares of its common stock via its Regulation A+ Tier 2 offering at the IPO price of $5.00 each, raising $10.8 mill before expenses.
Soliton (founded in 2012) is a pre-revenue stage medical device company with a novel and proprietary platform technology licensed from The University of Texas on behalf of the MD Anderson Cancer Center ("MD Anderson"). Soliton's method is unique in that it seeks to remove tattoos using a proprietary shockwave technology, instead of the traditional laser tattoo removal technique that is often criticized as uncomfortable, expensive, and time-consuming.
Typical tattoo removal can take as many as 1-2 years and as many as 10 office visits. Soliton aims to improve customer satisfaction significantly. In a recent clinical trial, patients were able to achieve 76% to 100% removal of their tattoos within just two or three office visits compared to 17% when treated with conventional laser only.
"Our Nasdaq IPO represents a significant milestone in the company's history and we are thrilled to offer our shares to the public" stated Dr. Chris Capelli, Soliton's CEO.
"We are pleased that Soliton shares will begin trading on Nasdaq today", stated Keith Moore, CEO Boustead Securities, as "this is the first Reg A+ IPO to list on the NASDAQ or the NYSE in over a year" (list of prior Reg A+ IPOs).
Soliton's Rapid Acoustic Pulse (RAP) device, used in conjunction with existing lasers can dramatically accelerate the process of tattoo removal, and the company has found in recent clinical trials that the device may have standalone applications for reducing cellulite appearance and improving skin laxity. To that end, the Company's RAP device is already in a clinical trial for reduction of cellulite and a collaborative trial with an established global aesthetics company to test the device's ability to accelerate that company's own fat reduction technology. These clinical trials are early stage and intended as a proof-of-concept and there is no assurance that the trials will have successful outcomes.
Boustead Securities, LLC served as lead underwriter for this offering.
The Company intends to use the net proceeds of this offering to develop and commercialize their Rapid Acoustic Pulse ("RAP") device; to conduct clinical trials for new indications; pay license fees and fund research and development and for general working capital.
An offering circular on Form 1-A relating to this U.S. offering was filed with the Securities and Exchange Commission ("SEC") and was qualified by the SEC as of November 27, 2018. The offering of these securities was made only by means of an offering circular on Form 1-A. The Offering Circular is available here.
Soliton, Inc. is based in Houston, Texas, and is actively engaged in bringing their RAP device to the market. The Company expects to file for premarket clearance with the U.S. Food and Drug Administration ("FDA") for its first device in the first quarter of 2019 and expects to receive clearance to market the device in mid-2019.
List of service providers on this offering.
 View their Offering Circular HERE. soliton
Rod Turner is the founder and CEO of Manhattan Street Capital, the #1 Growth Capital marketplace for mature startups and mid-sized companies to raise capital using Regulation A+. Turner has played a key role in building successful companies including Symantec/Norton (SYMC), Ashton Tate, MicroPort, Knowledge Adventure and more. He is an experienced investor who has built a Venture Capital business (Irvine Ventures) and has made angel and mezzanine investments in companies such as Bloom, Amyris (AMRS), Ask Jeeves and eASIC.
[email protected] www.ManhattanStreetCapital.com
Manhattan Street Capital, 5694 Mission Center Rd, Suite 602-468, San Diego, CA 92108