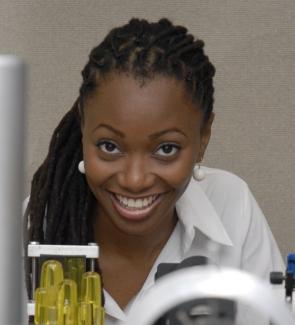 People battling cancer know that often the treatment can be worse than the actual disease. Chemotherapy, radiation, and even some natural therapies put the body through a lot in the name of finding and killing cancer cells before they kill their host.
Dr. Hadiyah-Nicole Green, one of only an estimated 100 African-American female physicists in the country, thinks she may have found a better solution to cancer treatment but more research is still needed. Dr. Green has already put her laser-activated nanoparticles to treat cancer theory to the test in living animals and has seen success. Now, with the help of a $1.1 million grant she plans to continue her research and ultimately to gain FDA approval for the laser technology on human cancer patients.
The technology works by injecting a cancer patient with a drug containing nanoparticles that then makes the patient's tumor glow under imaging gear. A laser is then used to activate the nanoparticles by heating them in the cancer cells. Since the cancer cells are targeted, patients would hypothetically suffer less side effects and avoid toxic drugs from entering their systems at all.
If Dr. Green's research turns out to be a major breakthrough, it could change the face of cancer treatment forever, and the patients and loved ones the disease impacts. After both of her parents died when she as young, Dr. Green lived with an aunt and uncle who later both died of cancer when she was a college student. According to several reports, Dr. Green takes every opportunity she can to show the importance of women and minorities in Science, Technology, Engineering and Math (or STEM) topics. 
Finding a way to more safely and effectively eradicate the disease would be a personal victory for this trailblazer -- but one that the rest of the world would benefit from too. 
You can read more about Dr. Hadiyah-Nicole Green and her story on AL.com.
Rod Turner
Rod Turner is the founder and CEO of Manhattan Street Capital, the #1 Growth Capital service for mature startups and mid sized companies to raise capital using Regulation A+. Turner has played a key role in building successful companies including Symantec/Norton (SYMC), Ashton Tate, MicroPort, Knowledge Adventure and more. He is an experienced investor who has built a Venture Capital business (Irvine Ventures) and has made angel and mezzanine investments in companies such as Bloom, Amyris (AMRS), Ask Jeeves and eASIC.
RodTurner@ManhattanStreetCapital.com
www.ManhattanStreetCapital.com
Manhattan Street Capital, 5694 Mission Center Rd, Suite 602-468, San Diego, CA 92108.