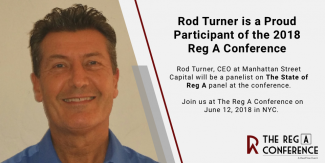 Since its enactment in 2015, Regulation A has offered an exemption from registration requirements for smaller companies that want to raise equity capital through a public offering of securities. 
The Reg A Conference dives into Reg A+ with a slate of experts who know the rules of the road when it comes to securities offerings. Hear from executives who've steered their companies through public offerings, as well as legal experts, accountants, and investment bankers who help ensure optimal results. Learn about the distinct format options for preparing a prospectus, as well as what to include.
The Agenda: Comprehensive Content & Innovative Ideas
Reg A creates a wealth of fundraising opportunity for smaller and mid stage companies. Although the rules and regulations are  streamlined, Reg A is by no means simple. To navigate these thorny thickets, we've assembled panels of experts who are ready to dissect this area to the depth our attendees expect and demand. Get your questions answered and come away confident in the knowledge that you will be better prepared to take advantage of Reg A when it's time to raise capital.
Rod will speak on the first panel of experts about:
Using Reg A+ to Make SEC Compliant Token Securities Offerings

The Hows and Whys of Regulation A+ IPOs

Current market conditions
Hope to see you in New York!