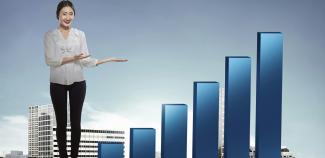 Now Anyone Can Invest in Startups and Mid Sized Private Companies. Here's How:
The SEC's new Title III Equity CrowdFunding rules went into effect May 16th. These new rules expand Equity CrowdFunding to allow investors at all wealth levels to invest in startup companies. In June 2015, the SEC also enabled groundbreaking new rules called Regulation A+ which allow anyone to invest in startups and more established companies that need to raise up to $50 million.
The capital raising landscape is making its biggest shift in decades. We now have an online fund raising continuum that extends from startups raising seed capital of as little as $100k up through established companies raising up to $50 million per year.
U.S. entrepreneurs have never had it so good. Let's explore the new ecosystem and see what path suits your company best.
Seed Equity CrowdFunding, known as Title III: Startups raising $100k up to $1 mill in seed capital fit the newly expanded main street equity crowdfunding rules nicely. This means that main street investors (both accredited and non-accredited individuals) worldwide can now buy shares in your company. The smaller the capital raise, the less demanding the disclosure rules, with break points at $100k and $500k. We can expect many of the existing equity crowdfunding platforms to now expand to include main street investors.
Vetted financials are required in many cases, and there will be marketing costs to promote your offering to investors. These costs could range from as low as $10k to the $60k range. The marketing cost will vary greatly depending on who is doing the marketing and how well it is executed. It costs money to get the attention of investors. Marketing agencies cannot charge a percentage fee on capital raised. They have to charge for their services in cash. But the good news is that the cost of reaching main street investors is far lower than the cost of drawing in Accredited investors if your company appeals to consumers, which is critically important here.
The initial slate of Title III Funding Portals are SI Portal (Seedinvest), IndieCrowdFunder, StartEngine, NextSeed, UFundingPortal, WeFunder, JumpStart Micro and CrowdBoarders. Many more funding platforms will likely soon be approved by FINRA, and this should be a busy field by the end of 2016. The most attractive Title III platforms will be those that have large scale and use their scale efficiently for Title III startups. IndieCrowdFunder would be my early favorite if they were broad in focus, but they are limiting their scope to Hollywood type companies.
Accredited Equity CrowdFunding:Startups raising $1mill to $4mill and up fit the existing style of equity crowdfunding platforms, raising capital from accredited (wealthy) investors.Think Fundable, CrowdFunder, Angellist, EquityNet as examples of this.
Reg A+: Successful mid stage companies, corporate spinouts (think management buyout) companies considering a reverse merger with a public shell, and select, low risk startups fit Reg A+ platforms. You can raise up to $50 mill per year using Reg A+. You could do your own offering, or you can use one of the funding platforms that exist today (examples include SeedInvest, StartEngine and, of course, ManhattanStreetCapital). Shares can be liquid immediately after the offering. It is also possible to take your company public using Reg A+.
In all forms of online fundraising/CrowdFunding:
You will need to make a compelling pitch for your business and the use of the capital, the market and why your company will survive competition in the long haul.

Be prepared for open disclosure. You have to be open and avoid hype in order to have a good chance of getting investor engagement and investment and to meet the SEC and FINRA requirements. Expect thousands of investors to be examining your every claim, your LinkedIn profile, and your career to date.

It will cost money to do the marketing of your offering. So you must spend money to raise money. As a rule of thumb, think in the range of 2 to 5% of capital raised must be spent to bring investors on board. Excellence in execution here is key. And for Title III and Reg A+, you will have more success if your company appeals to consumer investors - they cost less to reach and will more readily adopt the new models described here than accredited investors will.
Now is the time, and the opportunity has never been greater. We can expect tremendous evolution in the funding landscape as the result of the new expansion of online capital raising options for U.S. and Canadian entrepreneurs.
Rod Turner
Rod Turner is the founder and CEO of Manhattan Street Capital, the #1 Growth Capital marketplace for mature startups and mid sized companies to raise capital using Regulation A+. Turner has played a key role in building successful companies including Symantec/Norton (SYMC), Ashton Tate, MicroPort, Knowledge Adventure and more. He is an experienced investor who has built a Venture Capital business (Irvine Ventures) and has made angel and mezzanine investments in companies such as Bloom, Amyris (AMRS), Ask Jeeves and eASIC.
RodTurner@ManhattanStreetCapital.com
www.ManhattanStreetCapital.com
Manhattan Street Capital, 5694 Mission Center Rd, Suite 602-468, San Diego, CA 92108.