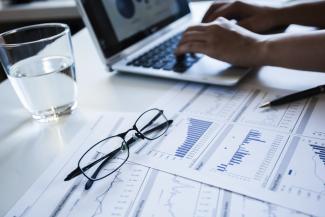 Becoming an accredited investor opens the door for certain individuals to invest and potentially multiply their money. If your goal is to expand your funds through investing, there are some things you should know in order to help you achieve it.
To be an Accredited Investor you must meet the criteria explained in Rule 501 under the Securities Act of 1933 (Reg. D), which defines an Accredited Investor in these two ways:
"A natural person with income exceeding $200,000 in each of the two most recent years or joint income with a spouse exceeding $300,000 for those years and a reasonable expectation of the same income level in the current year;
"A natural person who has individual net worth, or joint net worth with the person's spouse, that exceeds $1 million, excluding the value of the primary residence of such person."
The last part of the second bullet is a change that was introduced during the 2010 passage of the Dodd-Frank Act. Prior to the law's passage, the primacy residence was not an exclusion from an individual's net worth. Those who already held investments prior to the law's passage were grandfathered in.
The process
Contrary to popular belief, there is no actual "process" an individual goes through to become an accredited investor. There is no one to apply to and no offical designnation that makes someone an accredited investor. To state that someone is "accredited" is very misleading because there is no one who officially "accredits" you, but you and the company you hope to invest in.
How Do Accredited Investors Prove It?
In reality, a company that wants to issue securities or their representatives will provide a questionnaire asking potential investors to provide information to substantiate that he or she meets the required criteria. No formal agency confirms the accreditation of an investor. Since September 2013, the SEC has required that anyone selling to accredited investors must follow several steps to verify this status. An individual checking a box or making a claim that he or she meets the qualification is not enough.
Individuals who base their qualification on meeting the minimum annual income requirement will likely be required to submit W-2 forms, tax returns, and other documents that prove wages. In some cases, individuals may also provide letters from investment brokers, tax attorneys, and CPA reviews.
The issuing company bears the brunt of any violations that may arise with the SEC. In some situations, it's obvious that the investor is accredited, and others where it makes sense to ciruclate the questionnaire so they may walk you through the requirements step by step to make sure he or she thoroughly understands the representations made in the agreement.
It is important to recognize that the accredited investor status is based on financial metrics. This means that investors have more money, but also that there are greater funds at risk. It is really important for individuals to understand what being an accredited investor actually entails.
Since the enactment of Title IV of the JOBS Act, or Regulation A+ funding, investors do not need to be accredited to put money into growth-stage companies they believe could return an investment. Manhattan Street Capital can help you decide which of these companies is the right fit for you -- and can also match up growth-stage companies with these interested investors of all income levels. Read more about the process on our FAQ page. 
Rod Turner
Rod Turner is the founder and CEO of Manhattan Street Capital, the #1 Growth Capital marketplace for mature startups and mid sized companies to raise capital using Regulation A+. Turner has played a key role in building successful companies including Symantec/Norton (SYMC), Ashton Tate, MicroPort, Knowledge Adventure and more. He is an experienced investor who has built a Venture Capital business (Irvine Ventures) and has made angel and mezzanine investments in companies such as Bloom, Amyris (AMRS), Ask Jeeves and eASIC.
RodTurner@ManhattanStreetCapital.com
www.ManhattanStreetCapital.com
Manhattan Street Capital, 5694 Mission Center Rd, Suite 602-468, San Diego, CA 92108.