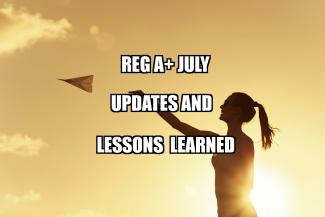 Reg A+ July: 150 Filed, 51 Qualified, with Guidance for Companies
Rod Turner July 12th, 2016
July Reg A+ Update and Analysis: Regulation A+
We can expect to see Reg A+ offerings going directly to the NASDAQ soon, as Reg A+ is gaining recognition as a viable method to conduct small cap IPOs – which have been extinct since 2001.
There has been a significant increase in publicly visible Reg A+ filings with the SEC. The rate of new Form 1-A filings increased to 28 in the month, about one per day. SEC Qualifications of Reg A+ filings, however, slowed to 3 in June, after surging in May.
The Wall Street Journal reported that two real estate transactions have raised $70 mill, which, when combined with the Elio transaction and current live offerings that have exceeded their minimums indicates a total of $95 mill invested in Reg A+ offerings to date.
Total intent to raise for Qualified offerings is $875 Mill, and for all filed offerings is up to $2.3 Billion, an increase of over 15% in the month. Two companies have taken their offerings down. Allegiancy and Beautykind paused or ended their live fundings because they did not reach their minimums. XTI Aircraft is back in TestTheWaters(TM).
Guidance for Companies interested in using Reg A+ to Raise Capital:
There is more and more evidence that at this early stage in the Reg A+ funding market, companies must resonate strongly with consumer investors to succeed. That appeal, plus first rate marketing with front loaded impact and budget, is required to bring in consumer investors and to prove traction early. Even in offerings that are attractive to broker dealer syndicates, in most cases brokers will not act to promote an offering to their clients until early success is apparent from consumer investors.
The scope of companies that will fit Reg A+ will gradually expand as wealthy investors and institutions engage. Expect to see Registered Investment Advisors begin to allocate their clients' capital in small amounts to Reg A+ offerings over the coming year. AIG stepping in, as reported last month, is significant here.
In the open forum inherent to Reg A+ offerings, success in the first few weeks is a must to show all interested parties the offering is going well.
Companies should set a low funding minimum unless they are buying a fixed price asset. This makes easier to make the offering go live and conduct the first closing and to pay for subsequent marketing from capital raised.
For further details and context on the status of Reg A+, check our prior Reg A+ Updates.
What is Regulation A+?
In June 2015 Title IV of the JOBS Act opened the door for main street (non accredited) investors worldwide to invest in private companies having headquarters in the USA or Canada. Regulation A+ funding offers cost effective capital raising for mid stage companies and mature startups, and provides investors convenient access to company offerings at their issue price. Also advantageous: the shares are liquid post offering. Summary of Reg A+ here.
Also check the Manhattan Street Capital FAQ
Please note that estimation and interpolation is required in compiling this update, especially for confidential filings. We do our best to interpret the information that is available in the most informative manner.
Some information herein kindly provided by Vintage, a division of PR Newswire: www.thevintagegroup.com.
TestingTheWaters™ and TestTheWaters™are Trademarks of Manhattan Street Capital
Rod Turner
Rod Turner is the founder and CEO of Manhattan Street Capital, the #1 Growth Capital service for mature startups and mid sized companies raising capital using Regulation A+. Turner has played a key role in building successful companies including Symantec/Norton (SYMC), Ashton Tate, MicroPort, Knowledge Adventure and more. He is an experienced investor who has built a Venture Capital business (Irvine Ventures) and has made angel and mezzanine investments in companies such as Bloom, Amyris (AMRS), Ask Jeeves and eASIC.
RodTurner@ManhattanStreetCapital.com
www.ManhattanStreetCapital.com
Manhattan Street Capital, 5694 Mission Center Rd, Suite 602-468, San Diego, CA 92108. 858-848-9566