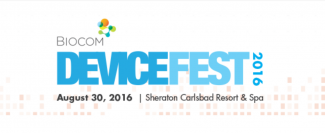 DeviceFest Featured Session:
Regulation A+ and More New Funding Methods for Medical Device Businesses
11am Pacific Tuesday August 30th 2016
Listen to an informative discussion between industry executives on their company's experiences and recommendations for raising investment capital through China, venture debt and Regulation A Plus. Hear the pros and cons and gain insight into which of these opportunities could potentially be an option to consider for your company. 
Panelists: 

 Erik Holmlin, Ph.D., President & CEO, BioNano Genomics, Inc. 

 Rob Lake, SVP, Head of Life Sciences, Bridge Bank

 Rod Turner, Founder & CEO, Manhattan Street Capital, Funding Portal for Reg A+, based in San Diego
Moderator:

 David Diamond, Shareholder, Mayer Hoffman McCann P.C.
Biocom's DeviceFest is your introduction to key decision makers within the medical device community. This full day medical device & diagnostic conference will outline the latest important developments that focus on reimbursement, regulatory, financing, strategic partnerships, and more. The conference will include a blend of keynote presentations, panel discussions and stand-alone presentations. 
To learn more about DeviceFest and to see the full conference agenda, click here.