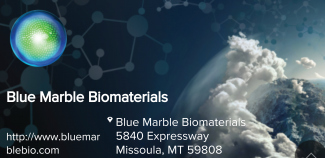 1,400 companies have joined the platform to evaluate raising growth capital
December 06, 2016, 08:00 AM Eastern Standard Time
SAN DIEGO--(BUSINESS WIRE)--Manhattan Street Capital, Inc. (www.manhattanstreetcapital.com), the first-mover platform for growth-stage companies seeking sizable equity capital under the SEC's Regulation A+, has just launched its first live offering: Blue Marble Biomaterials, of Missoula, Mont. Blue Marble is the first biomaterials company to file an intent to offer equity shares to the public via Regulation A+.
Since the inception of Regulation A+ in 2015, Manhattan Street Capital has been a frontrunner in the effort to educate growth stage companies about the advantages Regulation A+ embodies, such as post-investment liquidity, that investors at any wealth level worldwide can participate, brand building and providing more control for founders over their funding path, along with new funding alternatives that are streamlined and less expensive than traditional IPOs and offer more flexibility – well suited to mid-sized companies.
Manhattan Street's founder, and CEO, Rod Turner, is an expert on Regulation A+ and other funding alternatives. The company is working with a roster of companies in the process of preparing for upcoming offerings and working with Manhattan Street's selected marketing agencies and other service providers such as Broker-Dealers and underwriters.
"Manhattan Street Capital has been instrumental in the launch of our Regulation A+ online public offering," said Colby Underwood, co-CEO of Blue Marble Biomaterials.
Turner provides monthly Reg A+ Updates from the ManhattanStreetCapital.com blog, is a frequent columnist and presenter, and is an ongoing columnist for Forbes.com.
"We begin our process by helping companies assess if Regulation A+ is a good fit for their business and their capital raising plans," Turner said. "We introduce them to the service providers they need for successful Regulation A+ offerings, and we list their offerings and integrate them with the necessary back-end systems on our website while levering the proprietary technology built into our platform."
Manhattan Street advises companies through the fundraising process to increase the success and efficiency of the offerings on its platform.
"We specialize in Reg A+," Turner continued. "We focus on the more established businesses for which Regulation A+ is uniquely well suited."
About Manhattan Street Capital, Inc.
Manhattan Street Capital, Inc. (www.manhattanstreetcapital.com), in San Diego, California, is the #1 growth capital service for midstage companies, building on the Reg A+ SEC rules that allow leading street investors worldwide to make an impact by investing growth capital in midmarket companies.
AN INDICATION OF INTEREST INVOLVES NO OBLIGATION OR COMMITMENT OF ANY KIND. NO MONEY OR OTHER CONSIDERATION IS BEING SOLICITED AND, IF SENT IN RESPONSE, WILL NOT BE ACCEPTED. NO OFFER TO BUY THE SECURITIES CAN BE ACCEPTED, AND NO PART OF THE PURCHASE PRICE CAN BE RECEIVED UNTIL THE OFFERING STATEMENT FILED BY THE COMPANY WITH THE SEC HAS BEEN QUALIFIED BY THE SEC. ANY SUCH OFFER MAY BE WITHDRAWN OR REVOKED, WITHOUT OBLIGATION OR COMMITMENT OF ANY KIND, AT ANY TIME BEFORE NOTICE OF ACCEPTANCE GIVEN AFTER THE DATE OF QUALIFICATION.
See the Manhattan Street Capital fees for this offering  
View our Offering Circular HERE.
Rod Turner
Rod Turner is the founder and CEO of Manhattan Street Capital, the #1 Growth Capital service for mature startups and mid-sized companies to raise capital using Regulation A+. Turner has played a vital role in building successful companies, including Symantec/Norton (SYMC), Ashton Tate, MicroPort, Knowledge Adventure, and more. He is an experienced investor who has built a Venture Capital business (Irvine Ventures) and has made angel and mezzanine investments in companies such as Bloom, Amyris (AMRS), Ask Jeeves, and eASIC.
www.ManhattanStreetCapital.com
Manhattan Street Capital, 5694 Mission Center Rd, Suite 602-468, San Diego, CA 92108.