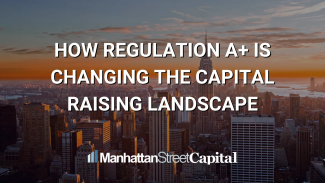 Have you heard about Regulation A+ and its impact on the funding and liquidity prospects for companies?
Reg A+ offers companies the opportunity to raise up to $75 million annually from accredited and non-accredited investors worldwide. Reg A+ has significantly improved the capital raising landscape and offers several attractive stock listing options after the offering is completed. Reg A+ is ideal for companies, influencers, musicians, and others with a strong social media following, consumer appeal, or a large customer base, which makes the marketing of the capital raise much faster and easier than using the old methods.
Advantages of a Regulation A+ Funding Campaign include:
You keep control over your company's destiny
Increased credibility with strategic partners
Liquidity for investors and insiders
Increased engagement with your fans and customers
Curious about how Reg A+ can help your business grow?