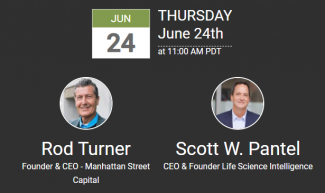 Thursday, June 24th, 11:00 am - 12:15 pm (PDT) | 2:00 pm to 3:15 pm (EST)
Sign up for the webinar for free, it only takes 10 seconds
If you sign up for the webinar we will send you the webinar recording later, so we suggest that you sign up even if you can't attend the webinar. 
We're in a golden age for medtech. New discoveries and developments build on each other, and innovation is exploding.
That innovation requires capital. For medtech startups, years of R&D, clinical trials, and regulatory approval prior to a penny of revenue are the rule, not the exception. And while investment in medtech is at an all-time high, the supply of capital from traditional channels isn't keeping up with the demand. That's why a growing number of companies are turning to alternative funding sources, such as Regulation A+.
Regulation A+ allows companies to raise up to $75 million in each 12-month period from Main Street investors—the general public—and to widely promote that offering with marketing and advertising. This gives companies the opportunity to find and connect with the people who share your vision, who believe in the impact that your products can have on the world. And they can support that vision, with a possible financial return for themselves, for as little as a few hundred dollars.
And this is an optimal time to reach those Main Street investors. Participation in apps like Robinhood and Webull, the WallStreetBets Reddit forum, cryptocurrency—all show how eager the public is to invest and learn, to innovate and break away from the traditional capital markets.
Want to learn how your company can take advantage of the democratization of capital markets?
On Thursday, June 24, we'll show you.
In partnership with Manhattan Street Capital and Medical Funding Professionals, LSI is presenting a webinar:
Alternative Funding Vehicle for Medtech Startups Gaining Momentum: Raising Capital through Regulation A+
The webinar will be hosted by Scott Pantel, Founder/CEO of LSI, and Rod Turner, Founder/CEO of Manhattan Street Capital, the first dedicated Regulation A+ funding platform and advisory company, launched in 2015.
In this webinar, you'll learn:
Is Reg A+ a fit for your company?
What makes Regulation A+ an attractive alternative to traditional funding and IPOs
How Regulation A+ works
How to keep more control of your company through the fundraising process
How to increase your company's valuation
How Reg A+ sets you up for M&A and IPO
How to have a successful Reg A+ offering, examples
Next steps to learn more about the Capital Planning Valuation Strategy™ analysis and consultation from Medical Funding Professionals, a $10,000 value, at no cost.
If you're ready to explore alternative go-to-market and growth funding strategies for your company, or just want to learn more about available options, join us on Thursday, June 24, 11am PDT.