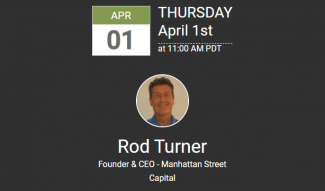 Thursday, April 1st, 11:00 am - 12:20 pm (PDT) | 2:00 pm to 3:20 pm (EST)
Sign up for the webinar for free, it only takes 10 seconds
If you sign up for the webinar we will send you the webinar recording later, so we suggest that you sign up even if you can't attend the webinar. 
In this webinar, we will be discussing How To Choose The Optimum Valuation For Your  Reg CF, Reg A+, Reg D, and Rule 144A Capital Raise
Agenda items for the webinar:
- Resources
- Valuation Professionals
- Choice of methods
- When you can change the valuation
- How Reg A+, Reg CF, Reg D, and Rule 144A are different
- Different audiences
- Exceptions
- Mistakes to avoid
- Tips
- Q&A
You are welcome to send us your questions ahead of time. We will also answer live questions toward the end of the Webinar.
Sign up at no charge and we will send you your reservation and Zoom conference invitation. 
Note: If you have not received your confirmation email, send an email to us at Support@ManhattanStreetCapital.com using the same email that you signed up with.
About your host
Rod Turner is a serial entrepreneur and has been a key executive in two IPOs to the NASDAQ and six successful startups. He is an expert in Regulation A+, IPOs and in raising capital for companies through equity crowdfunding.