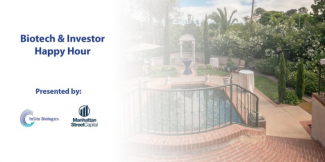 Are you an early-stage investor?
Do you have a company and want to raise capital?
Join us for casual conversation, drinks, and appetizers - Free
Share with your friends.
January 30th, (Wednesday), 4-7PM
The Prado | Garden Terrace 1549 El Prado, San Diego, CA 92101
Jim Segermark
CEO of InSitu Biologics
InSitu Biologics is an emerging biotech company, with a highly developed non-opiate
painkiller that is expected to be studied in people this year. Nearly $3m raised with
Manhattan Street Capital using Regulation A+.
Rod Turner
CEO of Manhattan Street Capital
Manhattan Street Capital is the premier online fundraising platform for Regulation A+ Offerings; based in San Diego.
InSitu Biologics & Manhattan Street Capital brings you expert insight on raising capital in Biotech and Life Sciences.
Plus, network with other local companies & investors
Session #1 - Regulation A+ public offering
Rod Turner, CEO Manhattan Street Capital
San Diego-based Manhattan Street Capital
Session #2 - InSitu Biologics – Matrix BioHydrogel™ & AnestaGel™
Jim Segermark, CEO InSitu Biologics
Non-Opiate Painkiller, over 22+ Patents Issued, Market Cap of Only $77 million