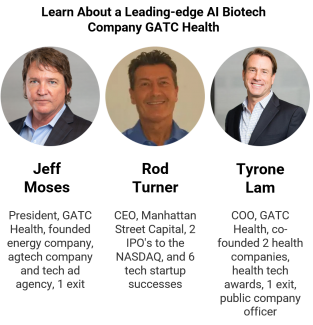 Learn How To Invest In The Future Of Biotech With GATC Health
Thursday, May 12th, 11:00 am - 12:00 pm (PDT) | 2:00 pm to 3:00 pm (EST)
Registration is free and fast.
Can't make it? Register here and we'll send you the webinar recording.
Join us on Thursday, May 12th, 11:00 am - 12:00 pm (PDT) for a Q&A discussion with GATC Health's President and COO. Rod will interview Jeff and Tyrone and they will discuss the GATC Health Reg A+ investment offering.
About GATC Health
250 savvy investors have invested $15 million (and counting) to back groundbreaking work. Join us for a FREE webinar to find out how you can invest in the future of medicine. 
GATC Health uses groundbreaking patented AI machine learning technology that closely imitates human biology to make early detection tests and to rapidly develop new medicines.
1. Diabetes - How do I know if I'm at risk 20 years before it hits me?
2. Alzheimer's runs in my family - Am I personally at risk?
3. Addiction - Is it possible to treat addiction once and for all?
GATC Health is answering each of these questions with revolutionary new medicines and tests developed using its patented AI platform.
The intended result is safer, smarter, more effective treatments for some of the world's most devastating diseases.
Webinar Topics will include:
GATC Health's proprietary AI technology
Product line overview
Market value, growth & demand
Core roles and experience of the leadership team
Competitive landscape
The investment offering
Q&A session
Register today, limited spaces available! Don't miss out on this great opportunity to speak with Jeff & Tyrone about the future of precision medicine and how you can invest. 
To learn more about GATC Health, you can visit the offering page.