Special Investor Opportunity Report:
The Covid-19 Crisis is one of the biggest public health threats in a generation.
That's why …
Edoceo is seeking funding to Fast-track Development of a Testing Platform Called V-Detect…
A SARS-CoV-2 Virus test designed to be:
Portable, for use almost anywhere
Quick, with results in under 30 minutes
Affordable, tests made available to all
Accurate, greatly reducing false results
Watch this video now for the details …
Watch this video to discover why Edoceo Devices is a great opportunity for investors as it pioneers point-of-need testing devices for the COVID-19 disease and eventually viruses causing diseases like HIV, dengue fever, influenza, Zika, and Hepatitis C, plus domestic animal viruses, 160 bacterial pathogens, and superbugs!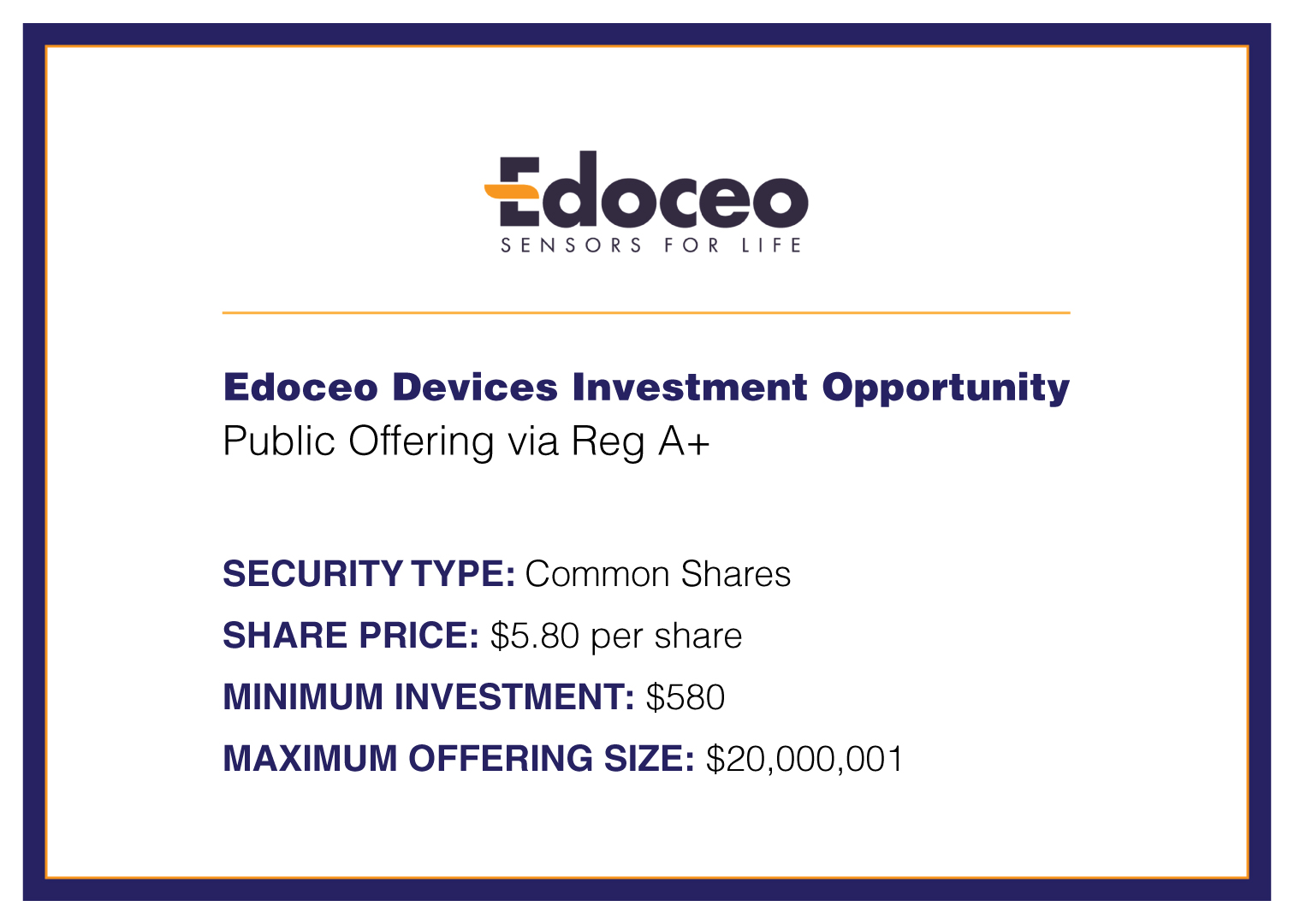 V-Detect is Expected to …
Deliver accurate COVID-19 tests results based on RNA amplification similar to the current gold standard of testing.

Eventually be expanded beyond SARS-CoV-2 testing capabilities to include detection of those viruses that cause HIV, hepatitis C, dengue fever, and even annual global flu outbreaks.
Read on for the 7 UNEXPECTED REASONS why investors could benefit from this disruptive tech.
But first, Edoceo is also developing a second, equally remarkable device called …
B-Detect, which is designed to …
Be the fastest, easy-to-use, cost effective, portable device that detects the presence of 160 kinds of bacteria when in a virulent (harmful) state. This could help identify superbugs that experts expect could cost the global economy $100 trillion in healthcare, lost productivity, and lost lives over the next 30 years. [1]

Eventually gain a foothold in multiple industries, with its first point of entry being shrimp farms, where bacterial invasions routinely cause massive crop and financial losses.
Edoceo Devices has exclusively licensed technology from Colorado State University to develop the

portable, easy-to-use, accurate, and fast V-Detect

…
It's expected to be a simple yet effective device that could positively influence the COVID-19 testing game … with the ultimate goal to eventually become a portable and affordable device that could spread to home use. This puts potential investors on the threshold of a viral testing platform that could have a similarly broad market appeal, like other in-home testing devices such as …
Blood pressure monitoring devices, a market projected to reach $2.47 billion by 2026.

Sleep apnea devices, with a market size projected to be a $12.61 billion market in the next four years.

Blood glucose meters, with a projected global market size reaching $15.4 billion by 2026 [5]
The SARS-CoV-2 virus is likely to impact people for many years to come, so a testing device that makes diagnosis quick, simple, and inexpensive could quickly gain in popularity. Imagine having V-Detect in schools, universities, day care centers, workplaces, nursing homes, and other congregate living facilities… keeping us all safer.
Perhaps even more important is having accurate tests — using RNA amplification methods similar to the considered gold standard — as well as integrating multiple different types of molecular assays.
As equally important though is quality test availability. Millions of tests are needed per day with some researches saying tens of millions and so far no single company or even group of companies have been able to deliver the required number of accurate tests. Edoceo plans to change that with its V-Detect.
Superbugs — bacteria that resist antibiotics — kill 700,000 people around the world each year. Experts expect that number to skyrocket to 10 million in the next 20 years [6] …
And everyday bacteria — not just the superbug kind — make millions sick and impacts businesses and economies [7] …
To protect from that scourge, Edoceo is developing B-Detect … another easy-to-use, portable diagnostic biosensor that produces results in less than 5 minutes. This is would be the fastest test-results time known in the industry.
We think that businesses and eventually consumers will be lining up for both the V-Detect and B-Detect devices as Edoceo expands their capabilities, continuously reduces their size, and reduces costs steadily.
And if you take advantage of this private investment opportunity today, you may be helping Edoceo to develop V-Detect and B-Detect, potentially saving many lives and reducing the physical, emotional, and financial impact harmful viruses and bacteria have.
Here are the 7 powerful reasons to consider investing in Edoceo today …
Reason #1: Technological Disruptors Have the Potential to Change the World & Boost Investor Returns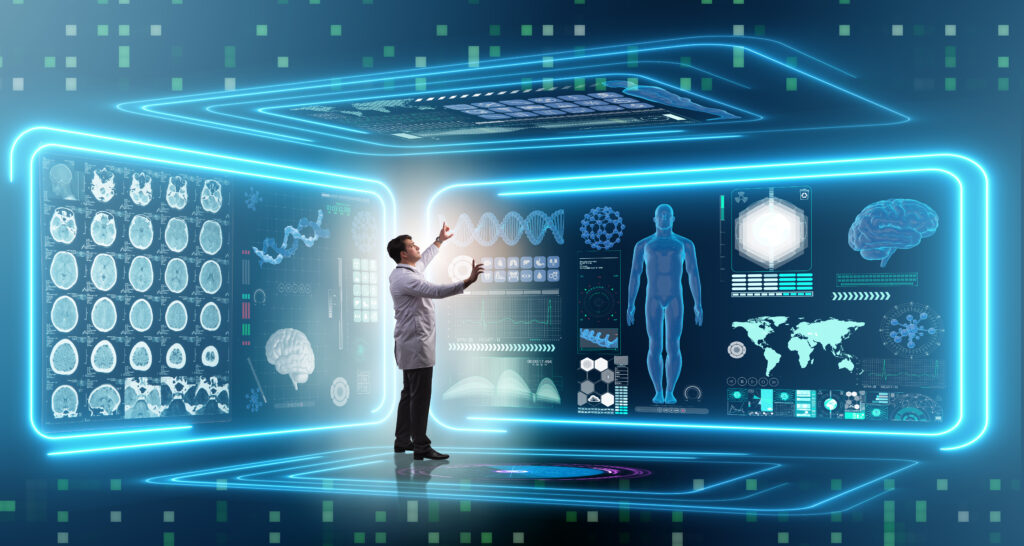 Edoceo's V-Detect and B-Detect devices could one day become vital weapons in the war on viruses and the diseases they cause such as COVID-19, Zika, Hepatitis-C, and influenza … as well as superbugs and other bacterial pathogens … because they could eventually allow users around the world to quickly, easily, and inexpensively:
Determine the existence of a viral or harmful bacterial infection so that treatment can begin quickly.
Track the progress of treatment of bacterial infections to ensure antibiotics aren't discontinued prematurely (something that plays a major role in the creation of superbugs).
After detection of a bacterial infection and an antibiotic prescription, a quick test a few hours after medication has started can determine if the antibiotic is having an effect. If it isn't, another antibiotic can be prescribed. This limits the ingestion of needless antibiotics, which is not only costly but can also build up the bacteria's resistance.
Prevent the evolution of new, even deadlier superbugs.
Slow the spread of viruses.
That's why becoming an investor in Edoceo Devices today could prove rewarding.
Reason #2: V-Detect and B-Detect Could One Day Become Common Household Medical Devices, Offering Accessible Testing to Millions
The market potential for Edoceo Devices' testing technology could be measured in the billions of dollars.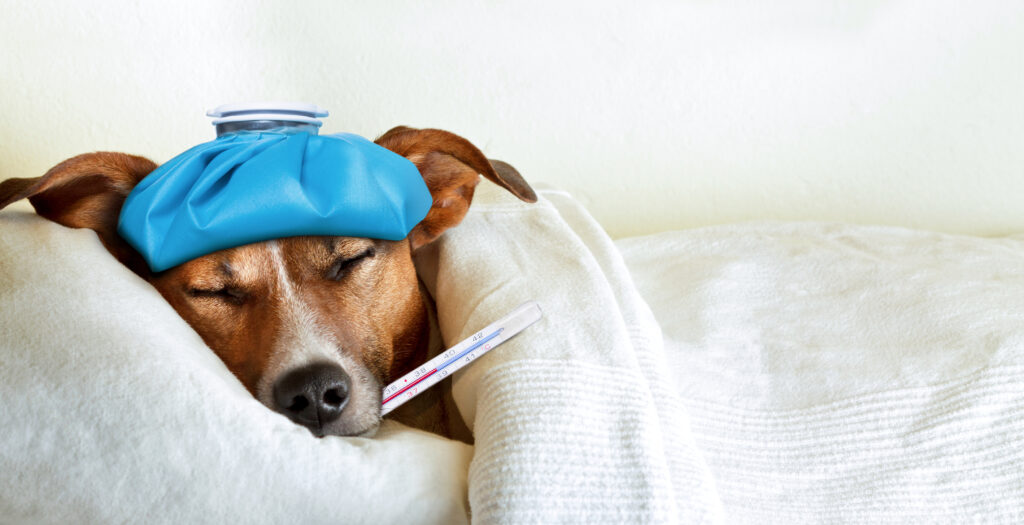 While initially focusing on the shrimp market, the goal is to develop B-Detect to be used by major sectors and industries that touch millions of households in the U.S. alone. These include …
We believe V-Detect has the potential to eventually become as important as in-home medical devices like sleep apnea machines, blood glucose monitors, and blood sugar monitors, making up a combined market size greater than $30 billion per year.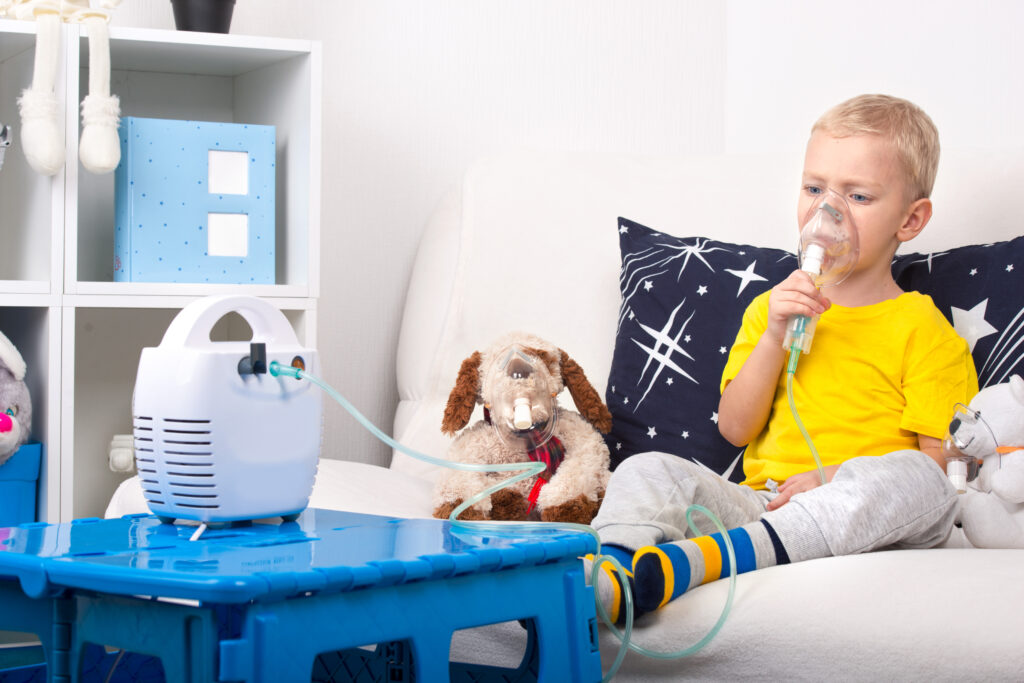 One day, they could give consumers and businesses the power to conduct the tests themselves, without the need for any special training or access to specialized facilities.
And results would be among the fastest in the industry …
5 minute turnaround in the case of bacterial detection, and
less than 30 minute test results for the virus causing COVID-19 and other dangerous viruses, too
In short, Edoceo Devices and its investors are on the launching pad to one day help society combat viruses like SARS-CoV-2 and dangerous bacteria.
Reason #3: The Bacterial Threat is Bigger Than You Know
Yes, COVID-19 is devastating.
But bacteria have seriously negative effects as well.
According to the Centers for Disease Control and Prevention (CDC): Food poisoning makes roughly 48 million Americans sick each year. Of those, 128,000 become sick enough to need hospitalization. And of
those,
3,000 people die.
[16]
In addition to the medical misery and loss of life, food-borne pathogens take a toll on the economy.
Experts expect superbugs to cost a cumulative $100 trillion of economic output by 2050.
[17]
According to
The Harvard Business Review
, foodborne illnesses cost America $55 billion a year in medical treatment, lost productivity, and lost wages, not to mention litigation expenses.
[18]
The latest CDC estimates are that more than 2.8 million people in the U.S. get sick each year from superbugs, and these infections are the primary cause of death for 35,000 of them
[19]
.
This number doesn't include those infected by MRSA, a dangerous and often deadly staph infection
It's clear that if we don't find a way to detect life-threatening bacteria faster, and treat infections sooner, more people will get sick … more will die … and bacteria and superbugs will pose an increasingly significant risk to people, animals, and economies.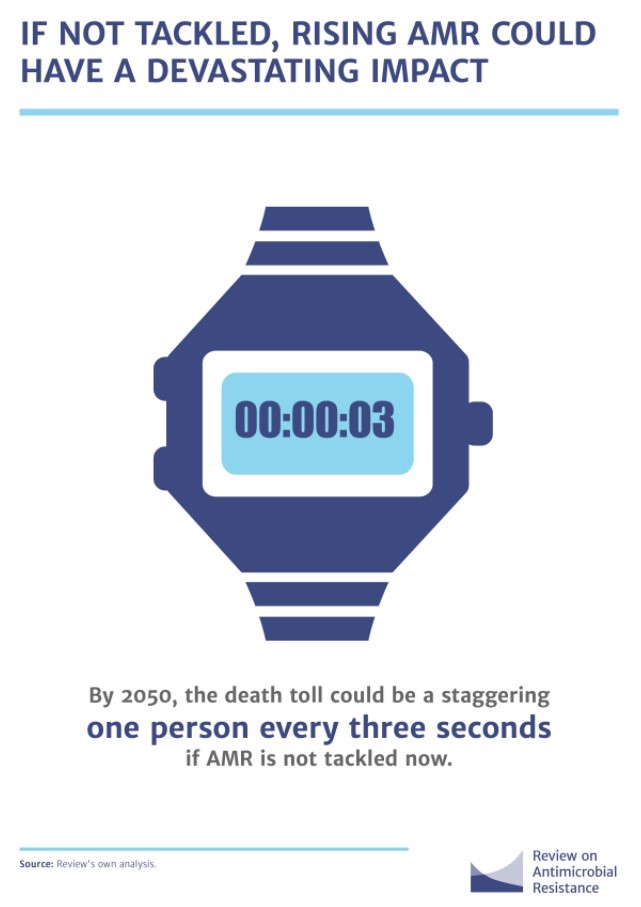 Antimicrobial Resistance (AMR) is the scientific name for superbugs. According to a review on AMR that the UK government commissioned, superbugs could kill a person every 3 seconds by 2050 … if we don't take steps now to curb the misuse of antibiotics.
In plain language, Edoceo is developing B-Detect to be a portable device that could eventually go mainstream.
Reason #4: Cutting Short the Debilitating Urinary Tract Infections that impact millions of people and cost the healthcare system billions
Once FDA approvals have been met, and development has moved far enough down the line, Edoceo believes that B-Detect could one day offer early alerts of painful urinary tract infections in people BEFORE they become critical and even deadly. After all …
An estimated 10.5 million doctors' visits every year are for urinary tract infection (UTI) symptoms in the U.S.

[20]

The societal costs of these UTI infections are about $3.5 billion per year.

[21]

Current testing is slow, with patients — many of them elderly — often waiting up to three days for results as their condition may deteriorate. Worse, a side effect of UTIs in the elderly could be confusion, to add to the discomfort they're experiencing.
Over half of all women and one-quarter of men will have a UTI in their lifetime.[22]
Unchecked, UTI's can lead to kidney infection, which can lead to sepsis. [23]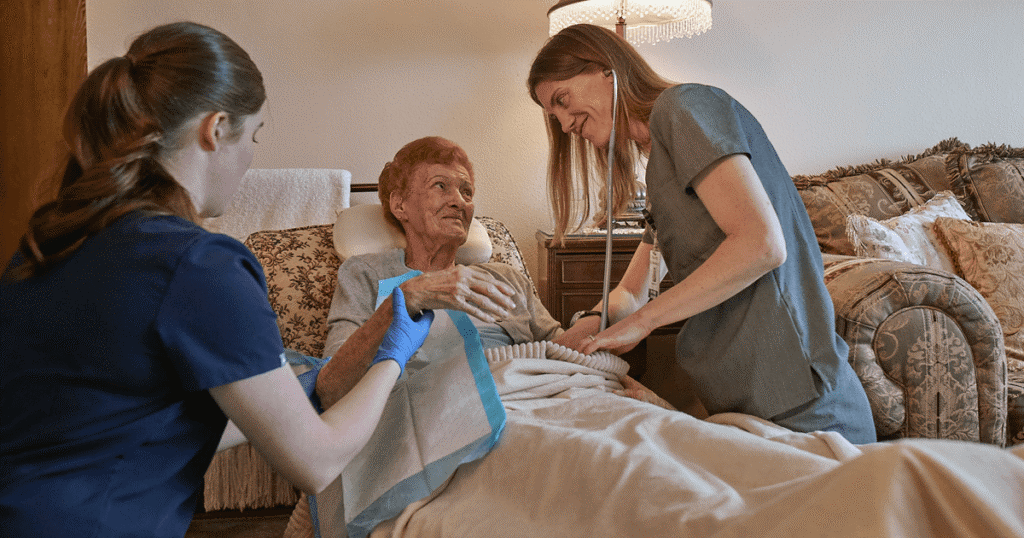 B-Detect could one day empower doctors, and eventually even regular people, to respond to UTIs faster and more effectively, thus limiting the physical, mental, and economic harm caused.
INVEST NOW
Please read the Offering Circular before making an investment decision.
Reason #5: There's A Way To Help Shrimp Farmers Save Billions Of Dollars A Year: Use B-Detect
Aquaculture, or fish farming, is a $243.5 billion industry. In fact, about half of all the fish consumed throughout the world are raised in giant, man-made ponds or tanks on dry land rather than caught in the wild.[24]
There are about 3,000 fish farms in the U.S.[25] Reliable statistics for other countries aren't easy to get, but our research suggests there are at least 50,000 aquaculture installations worldwide, with a high percentage in Asia and Latin/South America. This is a huge – and hugely important – industry. But it has a $6 billion problem …[26]
Fish can become infected, just like people and pets. And when fish are raised in confined environments, as they are in aquaculture installations, infection can spread like wildfire, wiping out an entire pond in less than a day.
The numbers are staggering. The aquaculture industry loses an estimated $6 billion a year because of diseased fish. In some years, approximately 40% of shrimp production is lost to disease.[iv]
So, it's crucially important to identify an infection as quickly as possible.
With current testing technology, it takes days for aquaculture operators to identify infection-causing bacteria, by which time a significant percentage of their crop might already be sick or dying.
But Edoceo is designing B-Detect to signal onsite the presence of bacteria in shrimp within minutes, allowing treatment to begin immediately. And it could allow aquaculture operators to continuously monitor their ponds to ensure treatment is working as intended.
Because the need is so great in this area, and it is a sector Edoceo can enter immediately, this is where it will focus its B-Detect efforts first. Doing so will not only help improve the situation for the aquaculture industry but provide funding for the company to continue developing its testing sensors so that they could eventually be used in more and more sectors.
Reason #6: B-Detect Could Be the Answer to Help Food Processors Detect and Prevent Expensive and Deadly Bacterial Outbreaks
Consider what happened to 100-year-old Blue Bell Creameries from Brenham, Texas.
In 2015, Listeria monocytogenes almost destroyed it.
This small, nasty pathogen began growing on machinery in the company's plant, contaminating products that sickened scores of customers. Ten ended up in hospital. Three died.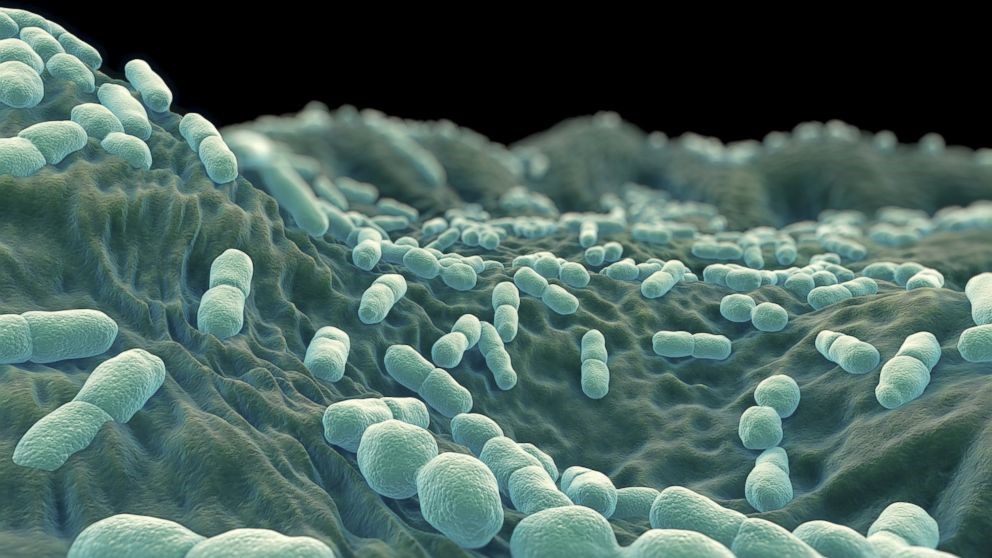 Blue Bell was forced to shut down operations, lay off 1,400 workers, and recall more than 8
million
gallons of ice cream. It lost millions of dollars … was fined $850,000 … and is still facing potentially ruinous lawsuits
[28]
.
Also, it had to borrow $125 million to decontaminate its plants and replace some of the equipment that couldn't be cleaned of the biofilm the bacteria created.
Once established in the shrimp / aquaculture industry, Edoceo intends to further develop the capacity for B-Detect to help with these serious outbreaks in the food processing industry.
At the very least, the country's 30,000 food processing plants, as well as state and local health departments, could become potential customers for B-Detect when its functionality eventually encompasses this market.
One day, B-Detect has the potential to help corporate America avoid the lost profits, fines, litigation costs, and bad publicity resulting from tainted food products.
It could also have a profound impact on public health as Edoceo works to continually improve its ease of use, size, portability, and cost.
Reason #7: The Science Teams Behind V-Detect and B-Detect are Renowned for Their Technological Innovations
Edoceo Devices – with its B-Detect and V-Detect portable units – germinated from the work of its Chief Science Officer, Dr. Kenneth Reardon, in collaboration with private labs in Los Alamos, New Mexico and scientists at Colorado State University.
Rodney Reum is the CEO & Chairman. He has 35 years of senior executive leadership of both public and private companies. For longer than 10 years, he has been the CEO of Caballarius Global Holdings, a company specializing in consulting services in corporate financing, structuring, and governance. He has played a key role in management of the financing of many enterprises up to CAD$1.3 billion for one project.
He's been an officer and director of several public companies, assisting a number of them through the "going public" phase of their growth. He has also been instrumental in bringing several new technologies from the development stage to market in the alternative energy, military, and law enforcement sectors.
He was a founder, CEO and Chairman of Mission Ready Solutions Inc. from 2011 to 2017.
Dr. Kenneth Reardon is the Chief Science Officer. He is a Professor (since 1988) and Jud and Pat Harper Chair of Chemical and Biological Engineering (since 2013) and holds joint appointments in several other programs at Colorado State University, including Cell and Molecular Biology and Biomedical Engineering. He has more than 150 peer-reviewed publications and 8 patents and has been the lead or co-lead of more than $30 million of funded research projects.
In 2010, Dr. Reardon founded OptiEnz Sensors and remains its Chief Technology Officer. OptiEnz produces biosensors that continuously monitor organic chemicals in aqueous solutions.
His research combines sensor development, bioreactor analysis, systems biology, applied microbiology, and microbial ecology.
Cynthia Ekberg Tsai is a Director. With more than 30 years of experience in global biotechnology and medical technology, Ms. Tsai has spent 16 years on Wall Street as a Vice President with Merrill Lynch and Kidder Peabody (1982 – 1995). Ms. Tsai is the former Founder and CEO of HealthExpo, the largest consumer healthcare event in the U.S., where she grew the enterprise from concept to execution, attracting more than 50 million consumers. Before that, she was a General Partner in MassTech Ventures, a multi-million-dollar equity fund focused on technology development at Massachusetts Institute of Technology. She currently serves on the Board of Selectors for the Jefferson Foundation Awards and is on the board of the Prix Galien Foundation. In 1999, the Harvard Business School Alumni Chapter in New York recognized her with an Early Stage Honor Roll Award for Entrepreneurship.
In 2004, she also received a "Leading Woman Entrepreneur of the World" Award from the Star Foundation in Overland Park, Kansas.
Nicolette Keith is the CFO. She brings more than 25 years of accounting and managerial experience in both the public and private sectors. She has acted as CFO of public companies listed on the TSX Venture Exchange and the Frankfurt Exchange as well as held a senior accounting role for a company listed on the NYSE.
Areas of focus for Ms. Keith include regulatory reporting, capital management, business process improvements, system optimization, internal controls, and management reporting.
Dr. Brian Heinze – Advisor – R&D. Dr. Heinze is the R&D Director at OptiEnz, responsible for research, product development, and project management. He has been actively involved in researching and developing optical biosensors for more than eight years, receiving numerous awards including the National SMART Grant, NASA Space Grant, and a National Science Foundation Small Business Innovation Research Award. Dr. Heinze earned a B.S. degree in biology and a Ph.D. in biosystems engineering, both from the University of Arizona with honors.
Dr. Anne Lo – Advisor – Animal Diagnostics. Dr. Anne Lo trained as a veterinary surgeon and worked in a number of clinical positions. She subsequently joined the management consulting firm Bain & Co. in London, before moving to a strategy role with WorldPay.
Dr. Lo is now with Horizons Ventures based in Hong Kong, where she primarily covered science and healthcare investments.
Dr. Lo received her B.Sc. and BVM&S degrees from the University of Edinburgh and her Ph.D. from the University of Cambridge.
Dr. James M. Hotaling, MD, MS, FECSM – Urinary Tract Infection Clinical Trial Advisor. Dr. Hotaling is a fellowship-trained urologist specializing in Male Infertility and Men's Health.
He completed his undergraduate work at Dartmouth, graduating magna cum laude with a double major in history and biophysical chemistry. He then went to Duke for medical school and completed a 6-year residency at the University of Washington, where he trained with one of the top penile reconstructive surgeons in the world, Dr. Hunter Wessells.
Dr. Hotaling elected to pursue an additional year of training under Dr. Craig Niederberger at the University of Illinois at Chicago, focusing on Male Infertility and Men's Health.
He is also one of the only Men's Health and Infertility experts in the United States to have undergone additional training to become a Fellow of European College of Sexual Medicine (FECSM).
He has over 85 publications, is funded by the NIH to study Erectile Dysfunction and Male Infertility and is regularly invited to speak at conferences all over the United States on Male Infertility, Men's Health, and Erectile Dysfunction.
He has been on the faculty at the University of Utah since 2013 and is currently the medical director of the fertility integrated practice unit, the director of the Men's Health program and a co-director of the fellowship in reconstructive urology and men's health. In addition, Dr. Hotaling is an editor of Fertility and Sterility, the premier journal in the field.
Dr. David Dandy– Senior Science Advisor. Prior to joining Colorado State University in 1992, Dr. Dandy spent four years as a Senior Staff Member in the Advanced Materials Department at Sandia National Laboratories.
In the mid-2000s, Dr. Dandy switched his primary focus to the development of novel miniaturized biosensing devices. That work has involved detection and identification of biomarkers associated with bacterial and viral infection in humans, and it has recently expanded to plant pathogens. Target biomarkers have included nucleic acids, antigens, host antibodies, and intact virus particles.
Dr. Dandy's research in diagnostics focuses on developing and implementing microfluidic solutions for passive and active mixing strategies, passive pumping, automated flow control in microfluidic networks, and microparticle concentration and separation.
He holds a total of five U.S. patents on two label-free biosensing technologies, the first employing an integrated optical waveguide and the second an optical method based on enzymatic conversion of target analyte. Dr. Dandy also has three pending patent applications.
He earned a BS in chemical engineering at the University of California, Davis, and MS and PhD degrees in chemical engineering from the California Institute of Technology.
Dr. Charles Henry – Senior Science Advisor. Dr. Henry joined Colorado State University in 2002 and is now Professor of Chemistry with a joint appointment as Professor of Chemical and Biological Engineering. He served as Chair of the Department of Chemistry from 2014-2018.
Dr. Henry's research interests lie broadly in the development of lab-on-a-chip technologies to study environmental and biological phenomena. Major techniques used include microfabrication, chromatography, electrochemistry, electrophoresis, microfluidics, microscopy, and 3D printing.
He has published more than 180 peer-reviewed publications and generated eight issued patents.
In addition, Dr. Henry has been involved in five spin-out companies from Colorado State University with products ranging from industrial water quality sensors to low-cost environmental diagnostics.
His current research includes projects to develop low-cost capillary flow driven diagnostic assays and biosensors for infectious diseases (bacterial and viral) and disease biomarkers, and the creation of new tissue-on-a-chip systems that integrate living ex vivo tissue into microfluidic devices.
And Dr. Brian Geiss is also a Senior Scientist Advisor. He is an Associate Professor in Microbiology, Immunology, and Pathology at Colorado State University and has a wide range of experience, from protein biochemistry and structural biology to molecular virology and in vivo pathogenesis analysis. Since 2005, he has studied RNA viruses, including flaviviruses, alphaviruses, and coronaviruses.
The NIH has supported Dr. Geiss since 2006 to develop antiviral targeting flavivirus RNA capping and define mechanism of viral RNA camping.
In short, Edoceo Devices boasts a group of accomplished, highly experienced and well-respected scientists in the fields of biophysics, biology, chemical engineering, microbiology, immunology, and pathology … making them an incredibly powerful team to drive value for investors.
Edoceo Devices, with its B-Detect and V-Detect could revolutionize how we fight and tame bacteria and viruses … putting potential investors on the threshold of returns only disruptive technologies can offer.
Edoceo – Making Sensor For Life
INVEST NOW
Please read the Offering Circular before making an investment decision.
Request Your Free, No-Obligation Edoceo Special Report Today!
Legal Disclaimer
Quara Devices Inc. (dba Edoceo Devices) Campaign
IMPORTANT NOTICE AND DISCLAIMER: All investments are subject to risk, which must be considered on an individual basis before making any investment decision. This is a paid advertisement to bring market awareness to Quara Devices Inc. (dba Edoceo Devices), its products and services, and a related private equity investment opportunity under Regulation A+ of the JOBS Act. Quara Devices Inc. (dba Edoceo Devices) hired Creative Direct Marketing Group, Inc (CDMG), an advertising agency, with a total budget of $150,000 to cover the costs associated with creating, printing media and distribution of this advertisement. . A related entity of the owners and management of CDMG purchased 300,000 shares of Quara Devices Inc. (dba Edoceo Devices) common stock on August 19, 2019 at a price of $0.05 per share after learning about its technology. Neither CDMG nor the related entity or any other affiliated individual or entity has any present intention to buy or sell any shares of Quara Devices Inc. (dba Edoceo Devices) now or in the near future and will not do so for a period of at least ninety (90) days following the date CDMG's marketing efforts have ceased. This advertisement is not, and should not be construed to be, an offer to sell or a solicitation of an offer to buy any security. Neither this advertisement, Edoceo or advertising agency's copywriter purport to provide a complete analysis of any company or its financial position. CDMG is not, and does not purport to be, a broker-dealer or registered investment adviser. This advertisement is not, and should not be construed to be, personalized investment advice directed to or appropriate for any particular investor. Any investment should be made only after consulting a professional investment advisor and only after reviewing the financial statements and other pertinent corporate information about the company. Further, readers are advised to read and carefully consider the Risk Factors identified and discussed in the advertised company's SEC and/or other government filings. Investing in securities, particularly illiquid securities, is speculative and carries a high degree of risk. Past performance does not guarantee future results. This advertisement contains forward-looking statements, including statements regarding Edoceo's expected continual growth. Quara Devices Inc. (dba Edoceo Devices) notes that statements contained herein that look forward in time, which include everything other than historical information, involve risks and uncertainties that may affect the company's actual results of operations. Factors that could cause actual results to differ include the size and growth of the market for the company's products and/or services, the company's ability to fund its capital requirements in the near term and long term, pricing pressures, etc. All trademarks used in this advertisement are the property of their respective trademark holders and no endorsement by such owners of the contents of this advertisement is made or implied. Neither Quara Devices Inc. (dba Edoceo Devices) nor CDMG is affiliated, connected, or associated with, and are not sponsored, approved, or originated by, the trademark holders unless otherwise stated. No claim is made to any rights in any third-party trademarks.