You are here
Jillian Sidoti - Trowbridge Sidoti LLP
Jillian Sidoti - Trowbridge Sidoti LLP
Jillian Sidoti - Trowbridge Sidoti LLP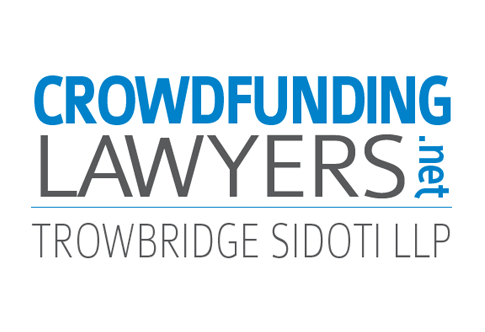 Trowbridge Sidoti LLP (CrowdfundingLawyers.net)
Trowbridge Sidoti LLP (CrowdfundingLawyers.net) is a boutique law firm whose area of practice includes setting up Syndications, Private Placement Offerings, Private Equity Funds, and Joint Ventures for real estate ventures and small business startups.
Trowbridge Sidoti LLP's legal services include preparation of Private Placement Memorandums (PPMs) and investor Subscription Agreements, selecting the appropriate securities exemption, formation and structuring of legal entities, and drafting investor agreements such as limited liability company (LLC) Operating Agreements or Private Loan Documents. We prepare and file the securities notices with the Securities and Exchange Commission (SEC) and state securities agencies required to qualify for a securities exemption from registration.
The firm's clients range from seasoned and sophisticated commercial real estate investors and brokers to individuals raising Private Money from family and friends for their first deal or new business. Many of their first-time syndication clients have gone on to do multiple Private Securities Offerings. Trowbridge Sidoti assists clients with federal securities offerings in all 50 states.
Our Team
Jillian Sidoti - Attorney, CCIM, Author, Public Speaker, Teacher
Jillian Sidoti is one of the country's leading experts on Regulation A+. Since 2008, Jillian has submitted multiple Regulation A Offering Circulars to the Securities Exchange Commission for approval making her one of the few attorneys familiar with the law prior to the changes under the JOBS Act. Since the JOBS Act, Jillian has assisted multiple companies and entrepreneurs realize their fundraising goals through Crowdfunding, 506©, and Regulation A. Jillian also continues to specialize in transactional legal matters such as private placement memorandums, S-1′s/S-11's, and Regulation D filings. Jillian also spends her time speaking at seminars educating real estate investors on how to legally raise capital for their real estate investment projects. Jillian is the author of the highly rated book, The Crowdfunding Myth which debunks the multiple myths surrounding crowdfunding and teaches the reader how to effectively crowdfund their securities offering.
Prior to her legal career, Jillian owned and operated a record label enabling her to tour worldwide with artists, including visiting South Africa, Canada, Europe, and the United States. Using that experience, Jillian has been commissioned to write articles and contracts for many music industry entities.
For several years, Jillian taught Finance and Accounting for the BS and MBA programs at the University of Redlands, drawing on her experience as Financial Analyst, Controller, and CFO for many companies from manufacturing to real estate development. Jillian also teaches a Small Business Management class where students are taught the anatomy of a business plan.
Contact
38730 Sky Canyon Drive, Suite A, Murrieta CA 92563
(323) 799-1342
Jillian@Crowdfundinglawyers.net